Pricing and more information
Please fill out the Pet Inquiry form below.
"*" indicates required fields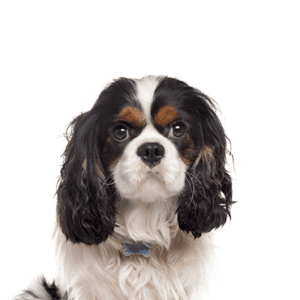 The Cavalier King Charles Spaniel
The Cavalier King Charles Spaniel is an elegant, energetic toy breed that is compatible for city or country life. Successful in conformation shows, obedience, and agility, they also make wonderful therapy dogs due to their sweet, gentle natures. The breed also became a TV star when featured on "Sex and the City" as Charlotte York's dog. Their silky coats come in four colors Blenheim (chestnut and white), Tricolor (black, white, and tan), Ruby (solid red), and Black and Tan.
History
For centuries, the Cavalier King Charles Spaniel (a namesake of King Charles II of Britain) has been recorded in paintings and tapestries together with their aristocratic families. It is obvious from these works of art that Cavaliers were a luxury item and lived "the easy life" as housepets. Though used successfully for shooting small game, the Cavalier's true purpose has always been that of companion.
Temperament
Friendly and easy to train, the Cavalier is a trustworthy companion for children and thrives as part of a family. The coat requires weekly brushing, but no trimming. The breed is adaptable in their need for exercise, happy with either sleeping on the couch or taking long walks.
Toy Group; AKC recognized in 1995.
Average size: 12 to 13 inches tall at the shoulder and between 13 and 18 pounds.
Companion.
Environment
Apartment is fine.
Somewhat active indoors.
Be careful in hot climates.
Exercise
Grooming
Regular grooming recommended.
Average shedding.
Read
Adopted Cavalier King Charles Spaniel's
Cavalier King Charles Spaniel

Cavalier King Charles Spaniel

Cavalier King Charles Spaniel