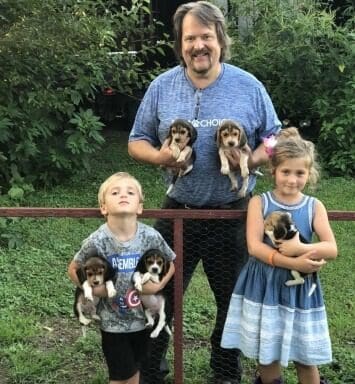 Miles Handy has been involved with dogs ever since his days as a young boy. He currently resides north of Indianapolis. He was introduced to his favorite breed, the Beagle, by his great uncle. He began raising beagles in college while attending the University of Louisiana at Monroe. He became an American Kennel Judge and joined a Beagle Club where he quickly rose to become the President. Many of Handy's Beagles became Champions. Because of his love of dogs, he started a pet food distribution company, which distributed pet products throughout the Midwest. He pioneered the natural pet treat in the early 1900's. The Pig Ear has became one of the favorite treats of many dogs throughout the United States. The Pig Ear is one of the products that was innovated by Mr. Handy. Miles was featured in Success Magazine, LA Times, Wall Street Journal, and many other national publications. Handy was invited and lectured at Cornell University Business School on Entrepreneurship. His passion for wanting to bring quality puppies to every household helped foster the idea of PuppyGram. His knowledge of finding quality breeders that breed dogs for specific traits helped him to make this idea reality. 
Where Happy Dogs Meet Happy Owners!
A Puppygram Ambassador will assist you on selection along with helping arrange your loved ones travels, which can include delivery to your front door. Puppygram has a network of qualified breeders that meet strict criteria to assure your puppy's health and welfare.
Our pups are guaranteed to be healthy, happy!! Our puppies come only from the best breeders!! No puppy mill promise!!